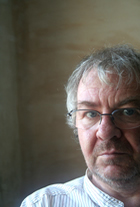 Keith Gillies died in 2021. He was a graphic design consultant. He designed this website and was the designer for the communityplanning.net website from its inception in 2000 until 2015.
He was a practicing and very talented graphic designer for over forty years and worked with a broad range of clients in the UK, the rest of Europe and USA. He produced an equally diverse range of work from the Body Shop logo to technical catalogues for the vacuum components industry, from Adult Literacy learning resources to post graduate medical film & television and from county council road safety for children campaigns to numerous corporate identities and strategic company presentations.
He also worked widely in higher education again in a variety of contexts. As a designer of teaching and learning materials he was based at the University of London, and, subsequently at Brighton Polytechnic. Later, as a part-time lecturer on their BA graphic design courses, he spent several years both at the Central School of Art and Design and at St Martin's School of Art and Design. More recently, for a spell of five years, he was a full-time Senior Lecturer in Graphic Design at Ravensbourne College of Design and Communication.
Keith lived on the south coast of England. Its landscape long inspired his own creative work, which takes form in his photographs and paintings depicting the area's unique architecture and promenades.