I have enrolled to do a PhD by Publication at the University of Brighton, starting 1st April 2018. The working title is 'Engagement in Placemaking' and it will give me the opportunity to review the five main books I have produced over the years, assess their impact, reflect on their contribution to relevant academic fields and identify future initiatives needed.
All very exciting.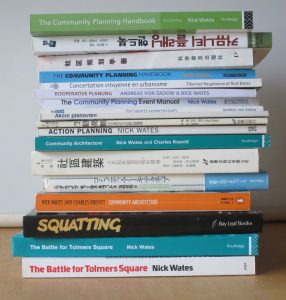 Spring 2020 Progress report – Dr Nick Wates
My doctorate was conferred on 2 March 2020 and you can see my thesis, Making Places Better here.
Also achieved:
Training in the latest research methods and online resources;
Sorted my archives and digitised some of them;
Communityplanning.net repaired and back in service;
Crowdfunding has made it possible. Thanks everyone. The crowdfunding page is now closed.
And here as promised is the small print:
Direct costs: 
Tuition fees £2,310

Train fares to Brighton £150

Repairs to communityplaning.net database £415

Digitising £138

IT support £420

Printing and postage £50

Replacement laptop £350

Total £3,823
Funds raised:
Just Giving donations:

 

£1,600

Offline donations. £2,135

Total £3,735
Plus a fantastic contribution specifically for scanning Tolmers archives of £3,772 (only indirectly related to my PhD).