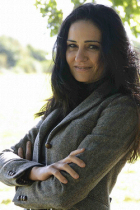 Maria Faraone has been involved in community planning and design for several years. As an architect, lecturer and urban planner, she has worked with a variety of communities in North America, West Africa and across the European Union.
Her current focus is on engagement with Romani in the United Kingdom and Roma in Eastern Europe. This tailored version of collaborative planning is intended to allow several key groups in each community to form part of the dialogues for establishing their neighbourhood and for legitimizing the presence of each group.
Recent projects have included facilitating workshops in the Czech Republic with the Fundamental Rights Agency and Essex Romani communities in workshops with a variety of purposes including discussion and design exercises about land allocation and design. The results of these then form frames of reference for discussion with local planning authorities and with policy developers in local government.