Introduction
Resources
People
Archive
Links to web resources, books and free downloads about this 1970s London squatter community and development saga.
Please send suggestions for additions to info@nickwates.co.uk
Film
Tolmers, beginning or end? Philip Thompson, 1975
30 minute film on DVD available from the NWA shop.
Two excerpts on YouTube:
www.youtube.com/watch?v=7LjAmpFGVCI
and
www.youtube.com/watch?v=llj4ahtCNVI&feature=related
Websites
King's Cross Story Palace
https://storypalace.org/stories/
Online archive of stories that tell the history of the area around Kings Cross and Euston. Includes fascinating reminiscences by former Tolmers squatters Patrick Allen and Alex Smith. Story by Polly Rodgers with 1970s photographs and posters from the Nick Wates collection.
We all live in Tolmers Square
www.bartlett100.com
Online feature as part of the Bartlett School's centenary celebrations in 2019..
Unfinished Histories
www.unfinishedhistories.com
Recording the history of alternative theatre, 1968-88. Includes Tolmers Square as a street venue.
Exhibitions
Goodbye London; Radical Art and Politics in the Seventies 
NGBK, Berlin, Germany 26 June – 15 August 2010
http://ngbk.de/
Motorenhalle, Dresden, Germany, 23 March – 30 April 2011
Books
The Battle for Tolmers Square,
Nick Wates, RKP, 1976
Digital and paper copies available from
the NWA shop
or Amazon
or Routledge Revivals
Download 'final chapter': The Tolmers Tale End,  article, 1984.
Goodbye to London, Radical Art and Politics in the 70's,
Astrid Proll ed, Hatje Cantz, Berlin, 2010.
Includes essay on Tolmers by Sacha Craddock. 
www.hatjecantz.de/
Jeans and Beans and a Tub of Miso;
Memories of Community Foods 1976 – 2006
Tim Powell, 2013
Great book charting the rise of what is now 'Britain's experts in the procurement, sale and distribution of organic and natural dried fruits, nuts, seeds, pulses, grains and branded health foods', from humble beginnings in a squat in Prince of Wales Crescent, then a short term lease on the south side of Tolmers Square and now an industrial estate in North London. (from timp684[at]gmail.com)
The London Square: Gardens in the Midst of Town,
Todd Longstaffe-Gowan, Yale University Press, 2012,
ISBN 978-0-300-15201-2
'Yet there was an upside to these dire events [the rundown nature of London's squares in the 1970s]. Demolitions and threats to Georgian Bloomsbury and to Tolmers Square in Euston (the 'locus classicus of London's intellectual squatting movement'), succeeded anew in drawing public attention to the plight of the squares, and precipitated the initial stirrings of the movement for their preservation.' (page 270)
The Price of Altruism: George Price and the Search for the Origins of Kindness,
Oren Harman, W.W.Norton & Company Inc., 2010
The last chapter tells the story of Tolmers during the time George was there.
http://books.wwnorton.com/books/Author.aspx?ID=15582
Author's precis at:
www.youtube.com/watch?v=pU-s_5zkGL0
Tolmers in colour: Memories of a London squatter community
Nick Wates with Mae Dewsbery & Caroline Lwin,
Bay Leaf Books, 2010
See details
Available from our shop or from Amazon.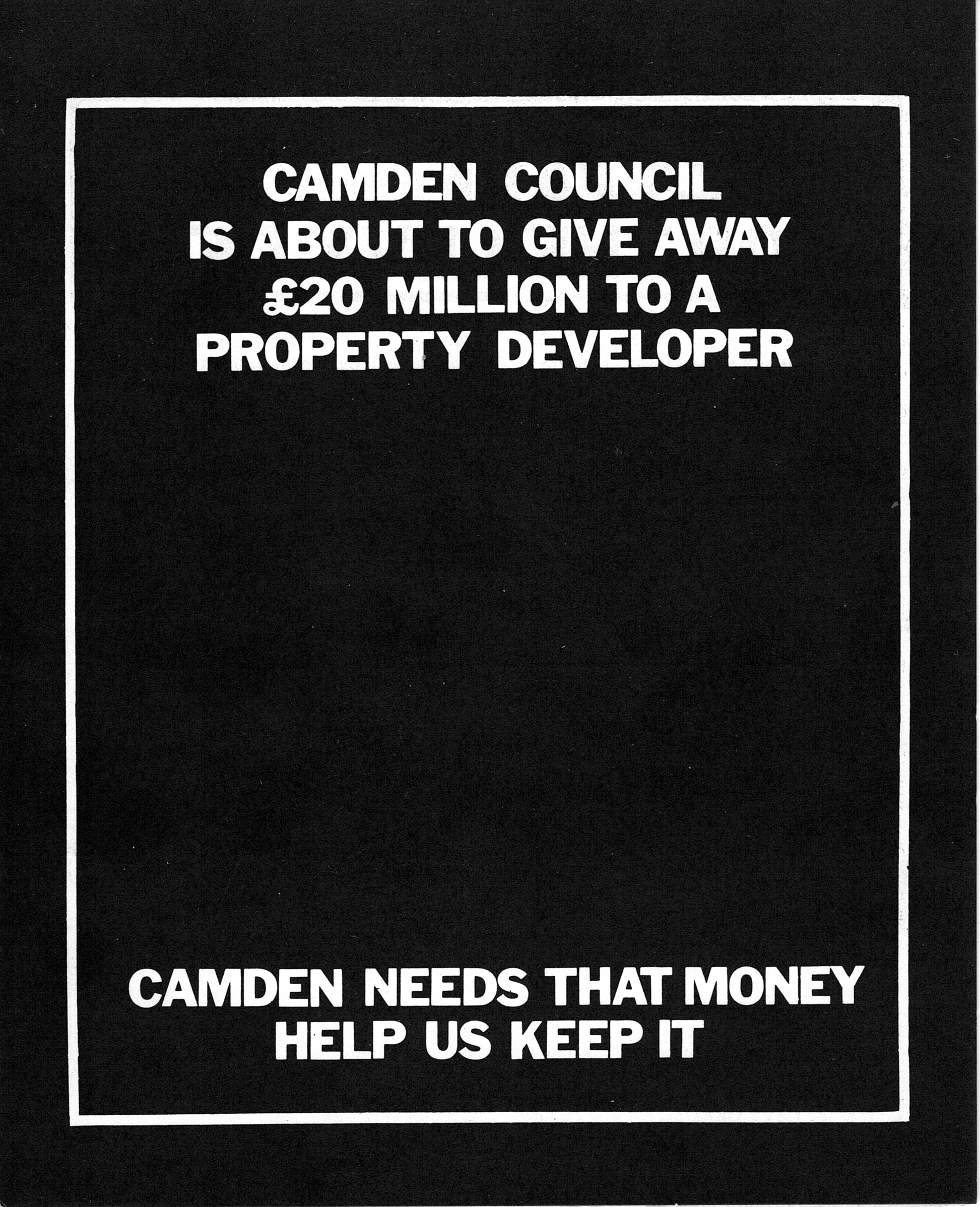 Stop the Levy Deal 
Campaign flyer, September 1973.
---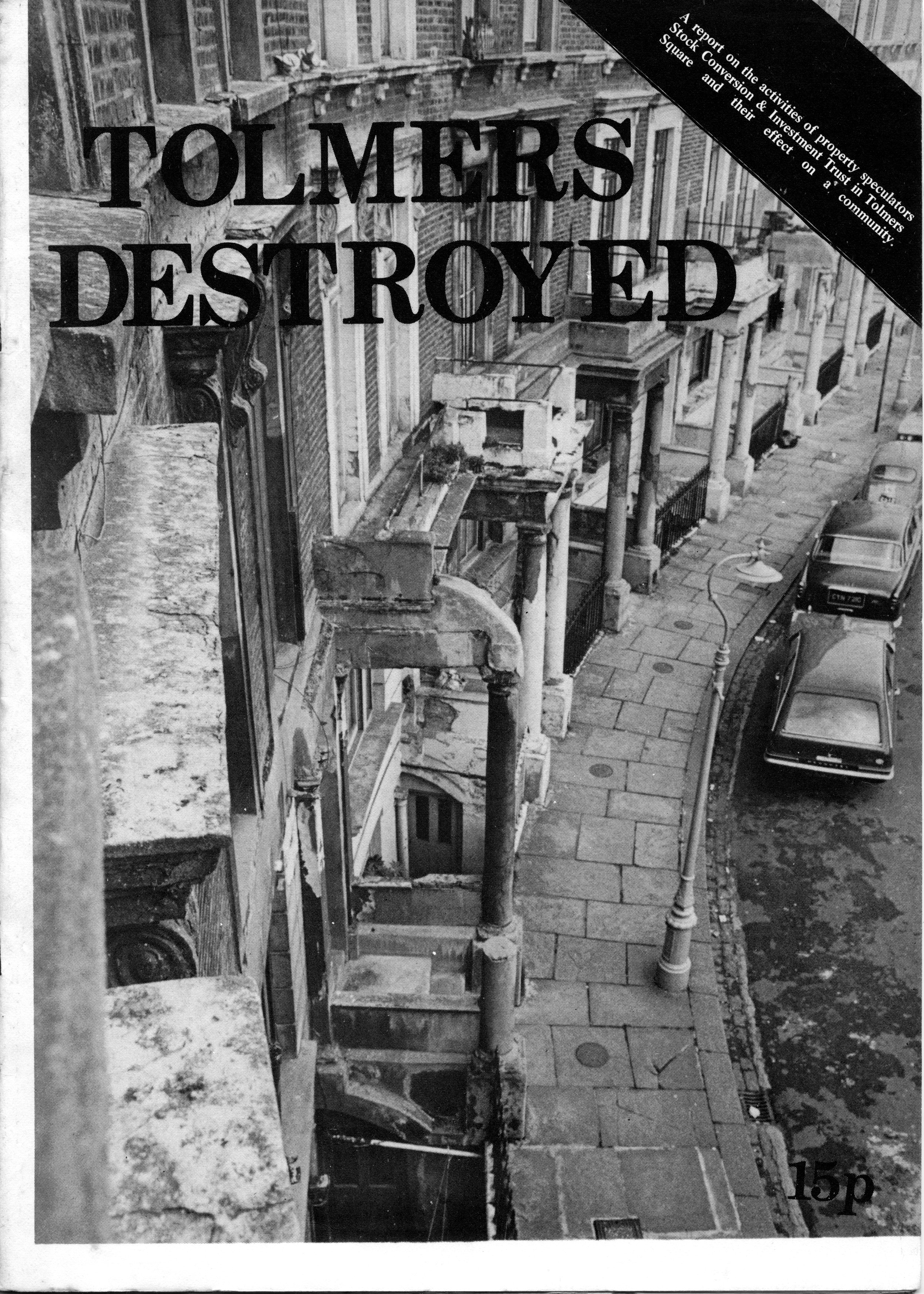 Tolmers Destroyed
Campaign report on the activities of property speculators Stock Conversion & Investment Trust in Tolmers Square and their effect on a community, June 1974.
---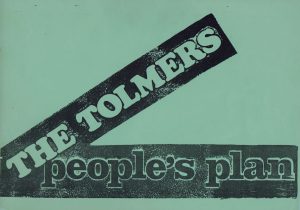 The Tolmers People's Plan
Alternative development proposal by the Tolmers Village Action Group, 1978.
---
Tolmers Tale End
Essay by Nick Wates telling the end of the story of the Tolmers redevelopment. A final chapter to The Battle for Tolmers Square. 5,000 words. 1984.