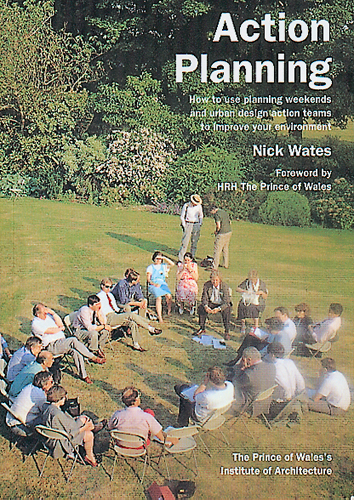 Action Planning: How to use planning weekends and urban design action teams to improve your environment.
All over the world people have started organising special collaborative events to improve their surroundings. For a few intensive days, everybody concerned gets an opportunity to have their say and get involved; residents, businesses, professionals, politicians. It's effective and it's fun. This book – the first on the subject – tells you how to do it.
Compiled and edited by Nick Wates
Foreword by HRH The Prince of Wales
The Prince of Wales's Institute of Architecture, 1996.
Published in association with the Urban Villages Forum. With the support of English Partnerships and Inner City Aid.
100 pages, 46 black and white photographs, 22 line illustrations, 19 checklists, 12 sample documents, 5 process diagrams.
See also The Community Planning Event Manual published by Routledge which is a revised and updated edition of Action Planning.