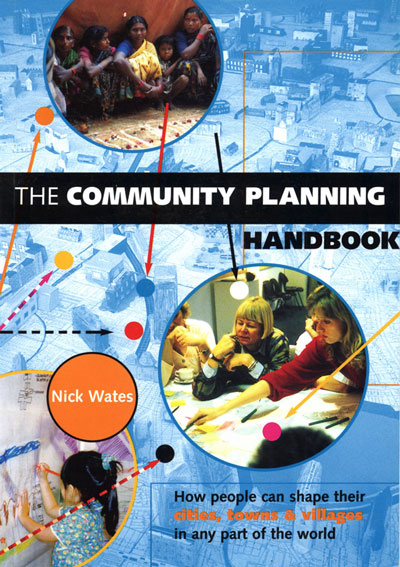 The Community Planning Handbook: How people can shape their cities, town and villages in any part of the world, Nick Wates, Earthscan, 2000.
Growing numbers of residents are getting involved with professionals in shaping their local environment, and there is now a powerful menu of tools available, from design workshops to electronic maps. The Community Planning Handbook is the essential starting point for all those involved – planners authorities, architects and other practitioners, community workers, students and local residents.
It features an accessible how-to-do-it style, best practice information on effective methods, and international scope and relevance. Tips, checklists and sample documents help readers to get started quickly, learn from others' experience and to select the approach best suited to their situation. The glossary, bibliography and contact details provide quick access to further information and support.
Compiled and edited by Nick Wates
Designed by Jeremy Brook, Graphic Ideas
First edition Earthscan Publications Ltd, 2000 ISBN 1-85383-654-0
Published in association with:
The Urban Design Group; The Prince's Foundation; South Bank University, London. With the generous support of: Department of the Environment, Transport and the Regions, England; Department for International Development, UK; European Commission Humanitarian Office;
230 pages, 210x148mm, 230 photos and illustrations, full colour throughout. The book covers 47 general principles, 53 methods and 16 scenarios. The appendices include a glossary with over 500 entries, an annotated publications listing with around 90 entries and 180 useful contacts and web links.
This download is the version reprinted in 2006. Get the 2014 second edition from the publisher Routledge.