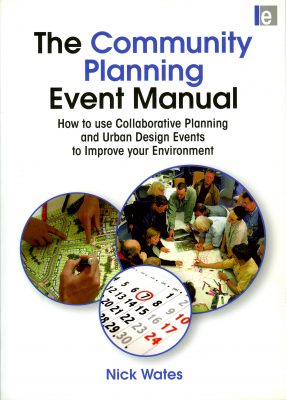 The Community Planning Event Manual: How to use collaborative planning and urban design events to improve your environment. Nick Wates. Foreword by HRH The Prince of Wales. Introduction by John Thompson.
All over the world people are organizing dynamic collaborative events to improve their surroundings. For a few intensive days, everyone concerned gets an opportunity to have their say and be involved – residents, businesses, professionals and politicians. It's effective and it's fun.
This Event Manual, the first on the subject, explains why and how to organize community planning events. The book is aimed at anyone – from concerned individuals to community groups to professional planners in business and government – interested in the remarkable potential of community planning events. It includes a step-by-step guide, detailed checklists and other tools for event organisers. The method is user-friendly, flexible and easy to employ in any context from small neighbourhood improvements to major infrastructure and construction projects anywhere in the world.
Earthscan, 2008 ISBN 9781844074921
Note: The Community Planning Event Manual is a revised and updated version of Action Planning (1996).
See also Routledge editions